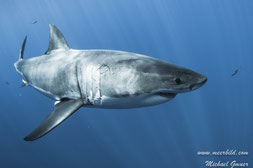 Tauchen mit dem Weissen Hai, eine der Gruppenreisen vom Ocean Window Team.
Bericht von Brian Sinnet in Englisch:
White Sharks at Guadalupe Island 2019 on the Nautilus Belle Amie
My thoughts on the tour can be summed up by the comment made by André after his first dive: Seeing a white shark for the first with my own eyes was so overwhelming that I had real tears in my eyes under my mask!
Before I left for the trip I had my reserves about cage diving, as many of you do as well, I'm sure. But >>>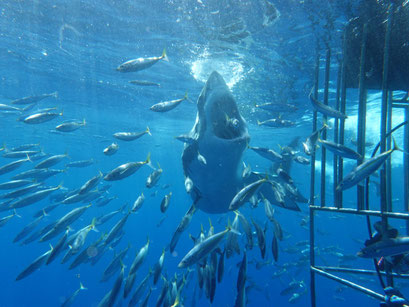 ... we have to think about this from another angle. The Guadalupe shark population stretches from Hawaii up the North American coastline to Washington State and consists of only around 300 white sharks (at most). Considering also that there is an estimate of only 2500 white sharks still in the world and to that, the population is only getting smaller as they continue being hunted the chances are small of seeing one.
The white shark reaches maturity at around 25 years of age and will only bare young once every other year. That means there are not many chances of seeing one in the wild. The Gaudalupe Island is worldwide the only known mating grounds for white sharks. Here the chances are, in the right season, guaranteed to see a white shark.
Adding to that we can protect it and keep it open for diving by preventing accidents or mishaps, and for this I understand the reasoning of the Mexican government to keep it closed to free. If something bad were to happen the Mexican authorities would just close the island to visitors. Also at Gaudalupe Island the water is clear and the weather is good for photographing or not missing one shark. This is why we headed to Gaudalupe Island.Liveaboards to make further trips to Gaudalupe island, so if you are interested please let us know.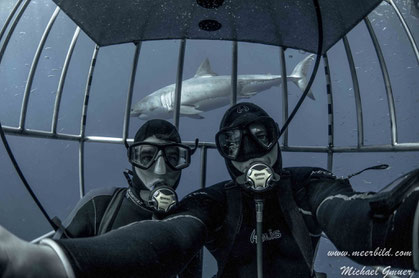 In the three days of diving we saw around 15 different white sharks.
There was not one dive without a shark from morning to the evening.
The impressive part about these sharks is how cautious they were. They definitely have a bad reputation. There was not one moment where a shark went for the bait without first spending a few minutes checking it out. You would see them swimming around deep and then swim up close to the bait then dive down then check it out again and again. Each time they would check it out they would get a little closer. But before they would commit for attack they swim at least three times by the bait. After they got teased enough and really wanted to get te bait they would swim fast from the deep and dark from under the boat and hit it fast. They would swim hiding in the shadow under the boat because they knew that the person at the end of the line would see them only at the last second. This method worked almost perfectly every time.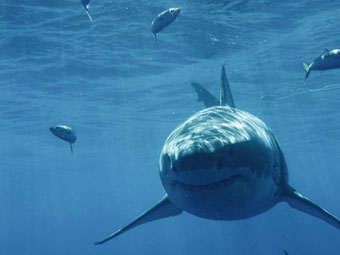 These are wonderful creatures to observe and we did everything possible to attract their attention.  Everything you learn that you should not do around sharks when you are not in a cage, we did.  And our method worked every time.  They would hear the bang on the cage turn to look at the cage and see us dancing like crazy apes inside.  The shark would go straight at the cage every time.   Seeing the cage at the last minute they would veer away.  I think the people on the boat thought we were nuts.  No, we are just crazy monkeys.
I will admit that their reputation did have an influence on my thoughts of being out of a cage with white sharks, but after one or two cage dives I saw that they are so cautious and just like any shark.  There are no bad sharks just bad situations.
I would have felt completely comfortable being outside the cage 20m or so away from the bait but without worries or concerns about the consequences.My behavior has the biggest influence on their behavior.
The long, 36 hour ship ride to Gaudalupe Island (due to bad weather) was well worth the trip.
Ocean Window is planning to continue working with Nautilus Liveaboards to make further trips to Gaudalupe island, so if you are interested please let us know. 
Thank you to our friends who contributet a lot of fun and many nice pictures: André Gilomen, Marc Torrent, Michael Gmür, Patrick Meissner